Intimate Plated Dinner Wedding Inspiration
SALADS
Strawberry Mesclun
Local Baby Lettuces, Manitoba Strawberries, Candied Pecans, Goat Cheese, Balsamic Vinaigrette V GF
Bouquet of Greens
Manitoba Mixed Greens Wrapped with Cucumber, Grape Tomatoes, Maple Dijon Vinaigrette VV GF
Spinach Salad
Baby Spinach, Spiced Almonds, Sweet Red Onions, Strawberries, Raspberry Vinaigrette
VV GF
Champagne Greens
Mix of Local Lettuces, Sliced Apple, Dried Cranberries, Toasted Pumpkin Seeds, Goat Cheese, Champagne Vinaigrette
V, GF
V = Vegetarian
VV = Vegan
GF = Gluten Free
DF = Dairy Free
  Included House Baked Artisan Breads and Compound Butter
  Coffee and Tea Service
Poultry
Chicken Picatta
Grilled Chicken Breast, White Wine, Lemon and Caper Butter Sauce, Smashed Potatoes, Grilled Asparagus GF
Signature Spinach Chicken
"The One That Started it All!"
Chicken Stuffed with Spinach, Cream Cheese, Shallots, and Herbs, Tomato Basil Sauce,
Pancetta Wrapped Brown Butter Green Beans, Roasted Baby Potatoes GF
Piri Piri Grilled Chicken
Piri Piri Supreme Chicken, Roasted Baby Potatoes, Grilled Asparagus DF GF
Plant Based
Spinach Artichoke Mushroom
Baby Portobello Stuffed with Spinach, Artichoke, Tofu Cream Cheese, Served
On Top of a Bed of Arugula VV GF
Sweet Potato Caribbean Curry
Chunks of Sweet Potato, Chickpeas and Vegetables Simmered in Spiced
Coconut Milk and Served on a Bed of Rice VV GF
Eggplant Parmesan
Breaded Eggplant, and Zucchini Parmesan Stack with Tofu Mozza,
Marinara, and Linguine Noodles VV
Portobello Stack
Grilled Portobello Stacked with Grilled Vegetables, Polenta Cake and
Roasted Tomato Sauce VV GF
Beef Madeira
Medium Beef Tenderloin, Madeira Sauce, Parmesan Smashed Potatoes,
Grilled Asparagus GF
Beef Wellington
Golden Flaky Puff Pastry Wrapped Around Tender Beef Tenderloin, with
Mushroom Duxelles, Potato Pave, Baby Carrots and Green Beans
Short Ribs
Slow Roasted Cabernet Short Ribs, Parmesan Mashed Potatoes, Baby Carrots
Pork Marsala
Seared Pork Tenderloin, Marsala Sauce, Goat Cheese Mashed Potatoes, Green Bean Bundle
The 'Fig Pig'
Seared Pork Tenderloin, Fig Port Sauce, Parmesan Potatoes, Asparagus GF
DUAL PLATES
Surf n' Turf
Beef Tenderloin, Jumbo Shrimp, Red Chimichurri, Potato Pave, Roasted Broccoli GF
Chicken N' Ribs
Slow Roasted Kansas City BBQ Ribs, BBQ Chicken, Twice Baked Potato, Grilled Asparagus GF
Chicken N' Beef
Petite Beef Tender, Chimichurri, Grilled Chicken Breast Marsala, Roasted Baby Potatoes, Green Bean Carrot Bundle GF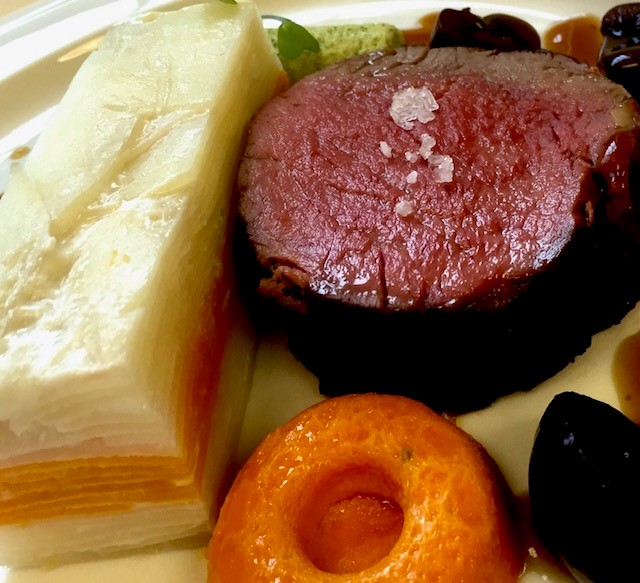 Individual Strawberry Shortcake
Layers of our Vanilla Cake, Strawberry Compote, Fresh Strawberries, Housemade Whip Cream
Chocolate Decadence
Salted Caramel Chocolate Brownie, Coffee Ice Cream
Cheesecake
White Chocolate Cheesecake Sphere, Filled with Strawberry, Raspberry or Blueberry
Chocolate Cremeux
Chocolate Cremeux, Raspberry Sauce, Vanilla Macaron, Nutella Powder
Apple Crisp
Apple Crisp, Housemade Vanilla Bean Ice Cream
Pricing Included: China, Cutlery, Water and Wine Glasses, Floor Length Table Cloths and Linen Napkins – Your Choice, Serving Personnel, Taxes and Service Charges
Poultry and Plant Based
25-35 Guests – $75
40 Guests – $70
50 Guests – $68
60 Guests – $65
70 Guests – $60
80 Guests – $55
Meat Options
25-35 Guests – $80
40 Guests – $75
50 Guests – $72
60 Guests – $70
70 Guests – $65
80 Guests – $60
Dual Plates
25-35 Guests – $84
40 Guests – $80
50 Guests – $76
60 Guests – $74
70 Guests – $70
80 Guests – $65
Guests Pre-Select Choice of Entrée Add $3
Add a Selection of Passed Appetizers for Cocktail Hour – $10
Add a Late Night Option – $6
Full Bar Services Available, From Bartending to Mix, Ice, Glasses to Full Liquor Purchasing
INTIMATE FAMILY STYLE SERVICE
(Based on Tables of 6 People)
Salads (Choose 3)
Seasons Tossed Salad
Mixed Field Greens, English Cucumber, Fresh Garden Tomatoes, Shredded Carrots
and Assorted Dressing VV GF
Spring Salad
Spring Mix, Goat Cheese, Strawberries, Sugar Glazed Pecans, White Balsamic Vinaigrette
V GF
Caesar Salad
Crisp Romaine Lettuce, Housemade Croutons, and Parmesan Cheese and our
Famous Housemade Caesar Dressing V
Traditional Greek Salad
Fresh Garden Tomatoes, English Cucumber, Red Onion, Red and Green Peppers, Kalamata Olives, and Feta Cheese with a Zesty Greek Dressing V GF
Spinach Salad
Fresh Spinach with Sweet Red Onions, Toasted Almonds, Chopped Egg, and
Strawberries with a Raspberry Vinaigrette GF
Pasta Salad
Peppers, Carrots, and Onions tossed in our Secret Dressing VV
Italian Pasta Salad
Black Olives, Sundried Tomatoes and Parmesan Cheese in an Italian Vinaigrette Dressing V
Little Italy
Orzo Pasta with Air Dried Roma Tomatoes, Artichoke Hearts, Beefsteak Tomato,
Parmesan, and Leek with a Meyer Lemon Vinaigrette V
Tabbouleh
Israeli Couscous, Tomatoes, Cucumbers, Roasted Red Peppers, Mint, Parsley, Green Onions, Lemon Juice, and Extra Virgin Olive Oil VV
Quinoa Pomegranate
Spinach, Black Quinoa, Red Onion, Pomegranate Seeds, and Toasted Almonds Tossed with a Honey Dijon Vinaigrette and Topped with Crumbled Feta V GF
Vegetables (Choose 2) (All Are GF, and Any Can Be Made DF) Farmer's Market Vegetable Medley
– May Include Carrots, Zucchini, Yellow Squash and
Red Bell Pepper Sauteed with Fresh Chopped Garlic and Butter 
Grilled Asparagus 
Baby Carrots with Manitoba Made Steppler Honey
Baby Carrots and Green Beans Tossed in Chive Butter
Green Beans with Roasted Almonds and Brown Butter

Vegetable Medley – Broccoli, Cauliflower, Carrots, Celery, Squash Tossed in Herb Butter
Roasted Yams with Pecans and Orange Butter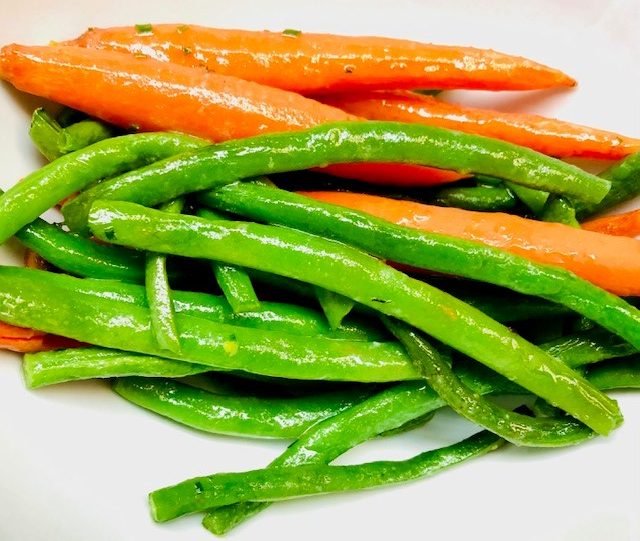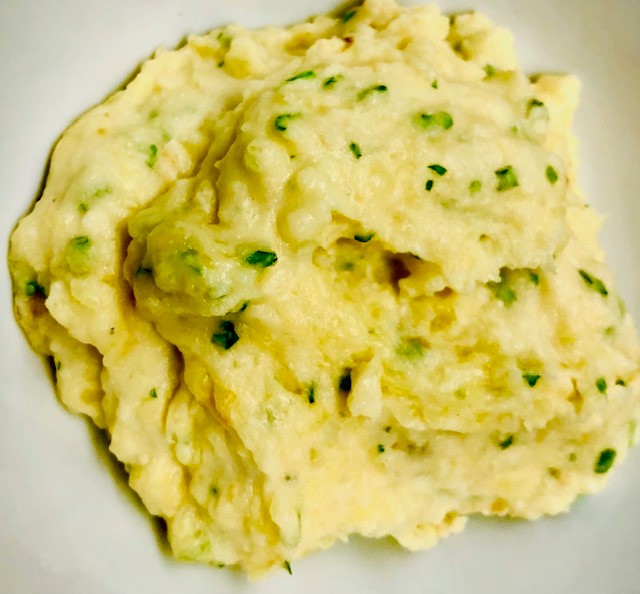 Starch (Choose 1) (All Are GF, and Any Can Be Made DF)
Herb and Garlic Roasted Baby Potatoes
Leek Infused Mashed Potatoes
Smashed Potatoes with Garlic, Butter and Topped with Parsley, Chives and
Parmesan Cheese
Manitoba Maple Sweet Potatoes
Entrées Poultry
Chicken Bruschetta
Grilled Chicken Topped with Fresh Bruschetta, A Diced Tomato Basil Sauce DF GF
Signature Spinach Chicken
"The One That Started it All!"
Chicken Stuffed with Spinach, Cream Cheese, Shallots, and Herbs, Tomato Basil Sauce GF
Chicken Marsala
Traditional Chicken Marsala in a Wild Mushroom Marsala Reduction
Chicken Picatta
Lemon Grilled Chicken, Crispy Fried Capers, Decadent Lemon Butter Sauce GF
Chicken Saltimbocca
Chicken Saltimbocca, Prosciutto di Parma, Sage Infused Cream Sauce
Plant Based
Eggplant Parmesan
Breaded Eggplant, and Zucchini Parmesan Stack with Tofu Mozza,
Marinara, and Linguine Noodles VV
Portobello Stack
Grilled Portobello Stacked with Grilled Vegetables, Polenta Cake and
Roasted Tomato Sauce VV GF
Ravioli Pasta
Spinach and Cheese Ravioli in a Pesto Cream Sauce
Quinoa Portobello
Quinoa Stuffed Portobello Mushroom with Romesco Sauce VV GF
Meat
Apple of My Pork
Seared Pork Tenderloin, Diced Apples, Leeks and Calvados Sauce DF GF
'The Fig Pig'
Seared Pork Tenderloin, Fig Port Reduction DF GF
BBQ Ribs
Kansas City Slow Roasted Baby Back Ribs Basted with Our Sweet BBQ Sauce DF GF
Beef Madeira
Medium Beef Tenderloin with Madeira Sauce DF GF
Porcini Beef
Medallions of Beef Tenderloin, Porcini Mushroom Cream Sauce
Pricing Included: China, Cutlery, Water and Wine Glasses, Coffee and Tea, Artisan Bread Board, Floor Length Tablecloths and Linen Napkins – Your Choice, Serving Personnel, Taxes and Service Charges
Poultry and Plant Based
25-35 Guests – $75
40 Guests – $70
50 Guests – $65
60 Guests – $60
70 Guests – $55
80 Guests – $50
Meat Options
25-35 Guests – $80
40 Guests – $75
50 Guests – $70
60 Guests – $65
70 Guests – $60
80 Guests – $55
Dual Plates
25-35 Guests – $85
40 Guests – $80
50 Guests – $75
60 Guests – $70
70 Guests – $65
80 Guests – $60
Add a Selection of Passed Appetizers for Cocktail Hour – $10 Add one of our Infamous Dessert Bars – $5 Add a Late Night Option – $6 Full Bar Services Available, From Bartending to Mix, Ice, Glasses to Full Liquor Purchasing
What is Included?
Floor Length Tablecloths for Guest Tables, Based on 6 People, Linen for Head Table, Cake Table and Signing Table, Linen Napkins, (Couple Chooses Colours from Over a Hundred Options), Water and Wine Glasses, China, Cutlery, Coffee and Tea Service, Serving Personnel, Set up, Dinner Clean up, All Taxes and Service Charges. That's Right the Price You See is the Price You Pay. No Hidden Charges!
Can We Customize Our Menu?
Absolutely, We Love to Work with Our Couples to Plan a Menu to Bring Your Family Together Around the Dinner Table. Whether it's Incorporating Your Heritage, a Recipe that is Passed Down, or A Special Date Experience, We Welcome the Collaboration!
Where Do You Source Your Ingredients?
Using Fresh Ingredients, Locally Sourced is Extremely Important to Us! We Never use Frozen Vegetables, Always Fresh. We Support Manitoba Farms from Our Produce to Our Chicken and Pork!
How Do Tastings Work?
We Want You to Know Exactly What You Are Getting! That's Why You Will Experience, What Your Guests Will Experience! Full Portions Will Be Presented Exactly as They Will Be at Your Wedding. You Will Also See the Place Setting, Linen Samples, and Serving Ware. Not Only Does This Give You a Great Idea What Your Wedding Experience Will Be Like, But it Allows to Make Adjustments, so Everything is to Your Liking.
Do You Charge For Tastings, and When Should We Schedule a Tasting?
Yes, as We Customize Your Tasting for Two, We do Charge a Tasting Fee of $125. We Recommend Scheduling a Tasting about 4 Months Before Your Event.