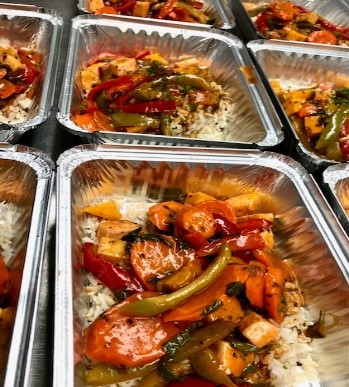 CURATED HOLIDAY INDIVIDUAL MEALS TO GO
Holiday Parties are going to look different this year!
Do you Think Skip the Dishes, or Uber Eats are Your Only Options??? Not Anymore!
Whether it is for an Office Meeting, or a Christmas Get Together, Our Curated Individual Meals are a Great Way to Say Thank You, and Bring Your
Team Together!
OUR FOCUS IS ALWAYS TO PROVIDE THE BEST FOOD FOR ANY EVENT
We place emphasis on every aspect of dining – from quality of ingredients, to integrity of preparation, to presenting and portions. Our Curated Menus have been thoughtfully crafted by our expert team who are passionate about making your events unforgettable. Trusting All Seasons Catering to handle the details, means you'll be a guest at your own event. All you have to do is relax and enjoy!
TRADITIONAL TURKEY DINNER $22.95
Oven Roasted Turkey, Thyme Pan Turkey Gravy, Herb Sage Stuffing, Cinnamon Orange Cranberry Sauce, Smashed Yukon Gold Potatoes, Sweet Glazed Carrots
Manitoba Maple Glazed Ham with Sweet Pineapple Sauce, Creamy Scalloped Potatoes, Roasted Root Vegetables, (Sweet Potatoes, Rutabagas, Parsnips, Red Onion, and Beets)
CLASSIC BEEF DINNER $24.95
Slow Roasted Beef, Pan Beef Gravy, Elman's Horseradish, Smashed Yukon Gold Potatoes, Sweet Glazed Carrots
BELOW DINNERS CAN BE ORDERED INDIVIDUALLY, WHEN ORDERED WITH ABOVE
VEGAN/VEGETARIAN DINNERS $22.95
Apple Lentil Loaf, Smashed Yukon Gold Potatoes
SWEET POTATO CHICKPEA BUDDHA BOWL
Roasted Sweet Potato, Squash, Red Onion, Kale, Vegetables, Atop Quinoa and Served with Cumin Spiced Chickpeas and Tahini Maple Sauce
Mixed Greens with Spiced Almonds, Sun-Dried Cranberries, Goat Cheese and Balsamic Dressing
Spinach Salad with Toasted Sunflower Seeds, Strawberries, Sweet Red Onions, and Raspberry Vinaigrette
Winter Greens with Roasted Squash, Pumpkin Seeds, Sun-Dried Cranberries, Maple Dijon Vinaigrette
Caesar Salad with our own Spice Tossed Croutons and Chef's Housemade Caesar Dressing
INDIVIDUAL DESSERTS $5.00
Apple Lattice Pie
Apple Crisp
Pumpkin Pie with Whipped Cream
Lemon Tart
Pumpkin Cheesecake
Eggnog Cheesecake with Gingerbread Crust
Turtle Cheesecake with Caramel and Pecans
PRICING PLUS APPLICABLE TAXES MINIMUM ORDER 15 PER HOT ENTREE
TO ORDER FILL OUT THE FORM BELOW: